Huey Pierce Long Jr., nicknamed the "Kingfish", is an American politician serving as a United States Senator from Louisiana since 1932. As a member of the Democratic Party, he served as governor of Louisiana from 1928 to 1932 before forming his own America First Party (AFP) in 1934.
Long was born in 1893 in rural northern Louisiana to a middle-class family. After working as a traveling salesman and attending two separate law schools, he was admitted to the state bar in May 1915 and set up a private practice in Winnfield, Louisiana. He gained a reputation as a defender of the poor and was elected to the Louisiana Railroad Commission, where he prosecuted large utility and oil companies such as Standard Oil. After narrowly being defeated in the 1924 gubernatorial election, Long used the sharp economic and class divisions in Louisiana to win the subsequent 1928 gubernatorial election with the largest margin in the state's history. Once in office he quickly rose to become the political boss of Louisiana, pushing his popular reform programs through the State Legislature using unprecedentedly aggressive tactics against his opponents.
After suffering a defeat in the State Legislature in 1930, Long subsequently announced his candidacy for the United States Senate, framing his campaign on a referendum on his programs. Despite winning the race for senator, Long remained in the governor's office to avoid ceding the governorship to political foe Paul N. Cyr. Long took his Senate seat in January 1932 and made fiery speeches that both denounced the concentration of wealth in the hands of the few and criticized the leaders of both the Democratic and Republican parties for failing to adequately address the crisis. After he was defeated in the 1932 Democratic presidential primary by Maryland Governor Albert Ritchie, Long left the party and established his own America First Party. Long's party has gained significant traction in the Southeastern United States during its short existence, and Long is expected to run as a candidate in the 1936 presidential election.
History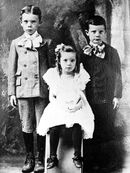 Early Life and Education
Huey Long was born on 30 August 1893 in Winnfield, Louisiana as the seventh of nine children in a farm-owning middle-class family. He worked on the family farm as a child and was homeschooled until the age of eleven, when he attended local public schools and gained a reputation as an excellent student with a near-photographic memory. While enrolled at Winnfield High School, Long circulated a flyer criticizing his teachers and the recently mandated fourth year of secondary education, and was subsequently expelled in 1910.
Long won a full-tuition scholarship to Louisiana State University at a state debate competition, but his lack of a high school degree and his family's inability to pay for textbooks or living expenses prevented him from attending. He spent the next four years working as a traveling salesman, selling books, canned goods and patent medicines, as well as working as an auctioneer. Long began attending seminary classes at Oklahoma Baptist University in September 1911 at the urging of his mother, a devout Baptist. However, he soon concluded he was not suited for preaching and decided instead to enter law.
Legal Career
Long briefly attended the University of Oklahoma School of Law in Norman, Oklahoma for a semester in 1912, but he received poor grades and frequently gambled instead of studied. In the fall of 1914 he enrolled at Tulane University Law School in New Orleans and, after only a year of study, he successfully petitioned the Louisiana Supreme Court to let him take the bar exam early. He passed and was admitted to the state bar in May 1915, opening up a private practice in Winnfield. In 1918 he moved to Shreveport and represented small plaintiffs against large businesses, including workers' compensation cases; He often said that he never took a case against a poor man. Long achieved public notoriety by taking on the powerful Standard Oil Company, the dominant oil producer and political force in Louisiana at the time. Over the course of his career, Long continued to challenge Standard Oil's influence in state politics and charged the company with exploiting the state's vast oil and gas resources.
Political Career
Railroad and Public Service Commission
That same year, at the age of twenty-five, Long was elected to serve on the three-seat Louisiana Railroad Commission which regulated transportation, utilities, and pipelines. His campaign for the Railroad Commission used techniques that he would perfect later in his career: heavy use of printed circulars and posters, frequent personal campaign stops throughout rural Louisiana, and vehement attacks on his political opponents. Long defeated the incumbent Burk Bridges in an incredibly close run-off election by a mere 636 votes. He used his position on the commission to enhance his populist reputation as an opponent of large utility and oil companies, fighting against rate increases and pipeline monopolies.
Long supported John M. Parker in the 1920 gubernatorial election and campaigned heavily for him in the northern parishes. However, the two soon became rivals after Parker refused to declare the state's oil pipelines as public utilities and allowed oil companies to assist in writing severance tax laws. Long derided Parker as the "chattel" of corporations and he subsequently attempted to have Long removed from the commission, though he was unsuccessful. In 1922 Long became chairman of the commission, now called the "Public Service Commission", and won public acclaim when he successfully prosecuted the Cumberland Telephone & Telegraph Company for unfair rate increases, resulting in cash refunds of $440,000 to 80,000 overcharged customers. Long successfully argued the case on appeal before the US Supreme Court, leading Chief Justice William Howard Taft to describe Long as "the most brilliant lawyer who ever practiced" before the court.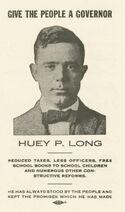 1924 Gubernatorial Campaign
On 30 August 1923 Long announced his candidacy in the upcoming gubernatorial election, attacking Parker, Standard Oil, and the "Old Regulars", a New Orleans political machine that had dominated state politics since 1877. Donning a distinctive white linen suit, he became one of the first Southern politicians to use radio advertisements and sound trucks on the campaign trail. Long campaigned for greater educational funding and infrastructure improvement, and condemned wealth inequality and corporate domination of state politics. However, his refusal to take a strong stand on the issue of the Ku Klux Klan limited his chances with Roman Catholic voters in the urbanized southern portion of the state, and he ultimately came in third in a close three-way race.
1928 Gubernatorial Campaign
Long spent the next four years building his statewide reputation and his political organization, including by supporting Catholic candidates for the US Senate to build support in heavily Catholic southern Louisiana. In 1927 he formally launched his second campaign for governor under the slogan, "Every man a king, but no one wears a crown", a phrase adopted from populist Democratic presidential candidate William Jennings Bryan. Long's use of colorful oratory to attack his political opponents and wealthy interests sometimes led to violence; when his opponent incumbent Governor Oramel H. Sampson called him a liar during a chance encounter in the lobby of the Roosevelt Hotel, Long responded by punching him in the face. Nevertheless, Long finished in the primary with 126,842 votes (43.9 percent), the largest margin in the state's history, and his opponents declined to face him in the run-off. He easily defeated the Republican nominee in the general election to become the youngest governor in Louisiana history at the age of thirty-four.
Governor of Louisiana
On 21 May 1928 Long was sworn in as governor in front of a crowd of around 15,000 Louisianans who had travelled to Baton Rouge to witness his inauguration. Once in office he moved quickly to consolidate his power, firing hundreds of opponents in the state bureaucracy at all levels, from cabinet heads of departments and board members to rank-and-file civil servants and state road workers, and filling the vacancies with patronage appointments from his own network of political supporters. Every state employee who depended on Long for a job was expected to pay a portion of their salary directly into Long's campaign fund, kept in a locked "deduct box" to be used at Long's discretion.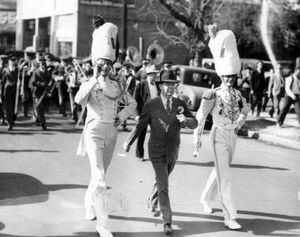 Once his control over the state's political apparatus was strengthened, Long pushed a number of bills through the 1929 session of the Louisiana State Legislature to fulfill campaign promises, including a free textbook program for schoolchildren, funding of night courses for adult literacy, and a supply of cheap natural gas for the city of New Orleans. Long began an unprecedented public works program, building roads, bridges, hospitals and educational institutions. His proposals met opposition from many legislators, citizens, and the media, but Long used unprecedentedly aggressive tactics to ensure passage of legislation he favored; he would appear unannounced on the floor of both the House and Senate or in committees to corral reluctant representatives and state senators and bully opponents. Later that year, Long called a special legislative session to enact a tax on refined oil production to fund his social programs and declared in a radio address that any legislator who refused to support his proposal had been "bought" by oil companies. The accusation infuriated many members of the State Legislature and a caucus of opponents drafted an impeachment resolution against Long. Lieutenant Governor Paul N. Cyr supported the resolution and accused Long of nepotism and corruption. Concerned that conviction would lead to his removal from the governorship and disqualification from future public office, Long had his ally Speaker of the House John B. Fournet adjourn the session before the proceedings could occur.
After narrowly escaping impeachment, Long treated his opponents ruthlessly, firing their relatives from state jobs and supporting their challengers in elections. Concluding that the people's interest must be fought by extra-legal means, he declared, "I used to try to get things done by saying 'please'. Now… I dynamite 'em out of my path." Denouncing the opposition-backed media as "lying" press, Long founded his own newspaper in March 1930, the Louisiana Progress, which he used to broadcast achievements and denounce his enemies. The paper was distributed by policemen, highway workers, and government truckers, and companies were expected to buy advertisements in Long's newspaper in order to receive state contracts.
Campaign for US Senate
During the 1930 legislative session, Long's proposals for another major road-building initiative and the construction of a new capitol building in Baton Rouge were blocked by his opponents in the Legislature. In response, Long announced his intention to run for the United States Senate in the Democratic primary, ostensibly as a referendum on his programs: if he won he would take it as a sign that the public supported his programs over the opposition of the legislature, and if he lost he promised to resign. Despite promising to withhold from personal attacks, Long derided his 70-year-old opponent incumbent Senator Joseph E. Ransdell as "Old Feather Duster" and the campaign became increasingly vicious. Prominent Long critic Sam Irby disappeared shortly before the election, emerging after four days surrounded by Long's bodyguards and claiming he had sought out Long for protection. On 9 September 1930 Long defeated Randsdell by 149,640 (57.3 percent) to 111,451 (42.7 percent) votes; accusations of voter fraud against Long abounded, and records listed celebrities such as Charlie Chaplin, Jack Dempsey, and Babe Ruth voting in alphabetical order. Despite having been elected to the Senate for the 1931 session, Long announced his intention to fill out the remainder of his term as governor in order to prevent Lieutenant Governor Cyr from undoing his reforms.
Senator-Elect
Having demonstrated his support from the Louisiana electorate, Long returned to pushing his program through the State Legislature with renewed strength. He continued to use intimidation tactics to assure passage of his favored legislation, standing beneath the Speaker's podium while pressuring legislators to approve his agenda. Long proceeded to enter an agreement with his longtime New Orleans rivals whereby they would support his legislation and his candidates in future elections in return for his support for a bridge over the Mississippi River, an airport for New Orleans, and money for infrastructure improvements in the city. Their backing enabled Long to pass an increase on the gasoline tax, new school spending, a bill to finance the construction of a new Louisiana State Capitol, and a $75 million bond for road construction. Long's road network gave Louisiana some of the most modern roads in the country and helped form the state's highway system, including the Airline Highway between New Orleans and Baton Rouge.
Long's opponents, however, charged that Long had concentrated political power in his own hands to the point where he had become the virtual dictator of the state. In October 1931 Cyr, by then an avowed enemy of Long, argued that the Senator-elect could no longer remain governor and declared himself to be the legitimate governor while Long was in Mississippi. In response, Long ordered the Louisiana National Guard to surround the state capitol building in order to fend off the illegal "coup d'état". Long went to the Louisiana Supreme Court to have Cyr ousted as Lieutenant Governor, arguing that Cyr had vacated the office of Lieutenant Governor when he attempted to assume the governorship. His suit was successful, and Senate president and Long ally Alvin Olin King became Lieutenant Governor in Cyr's place. Long chose his childhood friend Oscar Kelly Allen to succeed him in the 1932 gubernatorial election on a "Complete the Work" ticket, easily winning with Long's backing. With his loyal succession assured, Long finally resigned as governor and took his seat in the US Senate in January 1932.
United States Senator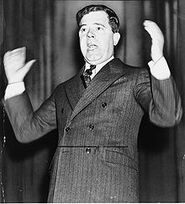 Long arrived in Washington DC to take his seat in the US Senate in January 1932, although he was absent for more than half the days in the 1932 session. With the nation suffering from the Great Depression, he made characteristically fiery speeches that both denounced the concentration of wealth in the hands of the few and criticized the leaders of both the Democratic and Republican parties for failing to adequately address the crisis. Long campaigned to become the Democratic nominee in the 1932 presidential election, but was defeated by Maryland Governor Albert Ritchie. After no candidate was able to achieve a majority in the electoral college and the House of Representatives reelected Republican President Herbert Hoover for a second term, Long publicly denounced the Democratic party and split with them.
Hoover considered Long a radical demagogue and privately said of him that, along with General Douglas MacArthur, "[Long] is one of the two most dangerous men in America". In June 1933, in an effort to undermine Long's political dominance, Hoover cut Long out of consultation on the distribution of federal funds and had Long's finances investigated by the Internal Revenue Service. Though they failed to link Long to any illegality, some of Long's lieutenants were charged with income tax evasion, but only one was convicted. Long continued to maintain effective control of Louisiana while he was a senator, blurring the boundary between federal and state politics. He continued to draft and press bills through the Louisiana State Legislature despite lacking the constitutional authority to do so, including new consumer taxes, elimination of the poll tax, a homestead exemption, and increases in the number of state employees.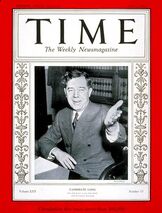 America First Party
In 1934 Long formally announced the creation of the America First Party and announced his candidacy for the 1936 Presidential Election. Through his control of the State Legislature, Long passed what he called "a tax on lying", a 2% tax on newspaper advertising revenue, and created the Bureau of Criminal Identification, a special force of plainclothes police answerable only to the governor. Long began to run his followers in state legislatures across the Southeastern United States to impressive success, and he has received endorsements from radio priest Father Charles Coughlin, industrialist Henry Ford, and aviator Charles Lindbergh.
Political beliefs
Long was a staunch opponent of the Federal Reserve Bank. As an alternative, Long proposed federal legislation capping personal fortunes, income and inheritances. He used radio broadcasts and his own national newspaper, the American Progress, previously called Louisiana Progress, to promote his ideas and accomplishments before a national audience. In 1934, he unveiled an economic plan he called "Share Our Wealth". Long argued there was enough wealth in the country for every individual to enjoy a comfortable standard of living, but that it was unfairly concentrated in the hands of a few millionaire bankers, businessmen and industrialists.
Long proposed a new progressive tax code designed to limit the size of personal fortunes. The new tax code would tax the first million dollars of wealth at zero. The second million dollars of wealth would be taxed at 1%. The third million at 2%; the fourth million at 4%; the fifth million at 8%; the sixth million at 16%; the seventh million at 32%; the eighth million at 64%; and the remainder at 100%. Income tax rates would be at 100% for all incomes over $1 million. The resulting funds would be used to guarantee every family a basic household grant of $5,000 and a minimum annual income of $2,000-3,000 (or one-third the average family income). Long supplemented his plan with proposals for free primary and college education, old-age pensions, veterans' benefits, federal assistance to farmers, public works projects, and limiting the work week to thirty hours.
Denying that his program was socialist, Long stated that his ideological inspiration for the plan came not from syndicalism but from the Bible and the Declaration of Independence. "Syndicalism? Hell no!" he said, "This plan is the only defense this country's got against Syndicalism". In 1934, Long held a public debate with Norman Thomas, leader of the Socialist Party of America (SPA) and a member of the Combined Syndicates of America, on the merits of Share Our Wealth versus socialism.
"Every Man a King"
Long created the Share Our Wealth program in 1934, with the motto "Every Man a King" proposing new wealth redistribution measures in the form of a net asset tax on corporations and individuals to curb the poverty and crime resulting from the Great Depression. To stimulate the economy, Long advocated federal spending on public works, public education, old-age pensions and other social programs. He was an ardent critic of the Federal Reserve System's policies to reduce lending.
With the Senate unwilling to support his proposals, in February 1934 Long formed a national political organization, the Share Our Wealth Society. A network of local clubs led by national organizer Reverend Gerald L. K. Smith, the Share Our Wealth Society was intended to operate outside of and in opposition to the Democratic and Republican Parties, as well as the Hoover administration. By 1935 the society had over 7.5 million members in 27,000 clubs across the country and Long's Senate office received an average of 60,000 letters a week.
Personal Life
Long married Rose McConnell, a stenographer, on 12 April 1913 at the Gayoso Hotel in Memphis, Tennessee, and together they had three children: Rose (b. 1917), Russell (b. 1918), and Palmer (b. 1921).