One or more subjects within this article are under rework, and may no longer be accurate.
Herbert Clark Hoover is an American engineer and politician who is the 30th and current president of the United States. A member of the Republican Party, he originally came to national prominence for his humanitarian work in occupied Belgium during the Weltkrieg.
Born to a Quaker family in West Branch, Iowa and raised in Oregon, Hoover entered Stanford University as a member of its inaugural class in 1891. Upon his graduation, he took a position with Bewick, Moreing & Co., a London-based mining company operating in Western Australia. During the Boxer Rebellion, Hoover helped the company to establish effective control over Chinese Engineering and Mining Company, Ltmd., becoming an operating partner in 1901. After leaving the company in 1908, he worked as a London-based independent mining consultant and financier specializing in rejuvenating troubled mining operations.
Upon the outbreak of the Weltkrieg, Hoover assisted in the repatriation of 120,000 Americans from Britain and helped to establish the Commission for Relief in Belgium (CRB), an international organization that supplied food to over nine million civilians in German-occupied Belgium and northern France. Hoover's humanitarian work during the war catapulted him to national stardom and he decisively defeated Democratic candidate Al Smith in the 1928 presidential election. Hoover took office in the midst of the Great Depression, and although he pursued a variety of policies to repair the economy, he opposed direct federal involvement in relief efforts.
Despite the ongoing economic crisis, Hoover managed to secure a second term in 1932 after a controversial election in which the House of Representatives decided the presidency after no candidate gained a majority of electoral votes. The contentious means by which he was reelected and his continued inaction in the face of economic upheaval have deeply affected his popularity, as well as shaken the public's faith in the American two-party system.
Biography
Early Life and Education
Herbert Hoover was born in West Branch, Iowa on 10 August 1874 as the second child of Jesse Hoover and Hulda Randall Minthorn, a humble Quaker family that owned a local farm implement store. Hoover contracted a serious bout of croup at the age of two, and narrowly escaped death after being resuscitated by his maternal uncle, John Minthorn. Tragedy struck the family when Hoover's father died in 1880 at the age of 34 followed shortly by his mother in 1884, leaving Hoover and his two siblings orphaned.
Hoover was sent to live with his uncle Minthorn in November 1885, and the Quaker physician and businessman instilled in the young Hoover a strong work ethic. Hoover attended Friends Pacific Academy until the age of thirteen, when he dropped out to become an office assistant for his uncle's real estate office in Salem. Although he never attended high school, he did take classes in bookkeeping, typing, and mathematics at a local night school.
Hoover entered Stanford University in the fall of 1891, becoming a member of the inaugural class despite failing every entrance exam except mathematics. He switched his major from mechanical engineering to geology on the advice of John Casper Barner, the chair of Stanford's geology department at the time. He co-founded the first student housing cooperative on campus and helped to organize the inaugural Big Game against  the University of California. During the summers before and after his senior year, his time interning under economic geologist Waldemar Lindgren of the United States Geological Survey convinced him to pursue a career as a mining geologist.
Mining Engineer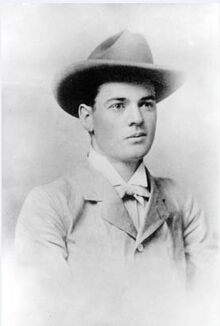 After graduating from Stanford in 1895, Hoover worked various low-level jobs in the Sierra Nevada Mountains until he was hired by Bewick, Moreing & Co., a London-based mining company that operated several goldmines in the Eastern Goldfields of Australia. He made constant tours across the Outback to evaluate and manage the company's mines, bringing in Italian immigrants to cut costs and counter the rising labour movement in Australia. Bewick, Moreing eventually controlled approximately fifty percent of gold production in Western Australia as a result of Hoover's efforts. However, after an open feud developed between Hoover and his boss Ernest Williams, the owners of the company decided to send Hoover to China to defuse the situation.
In China, Hoover worked developing mines near Tianjin for both Bewick, Moreing and the Chinese-owned Chinese Engineering and Mining Company, Ltmd. The Boxer Rebellion broke out soon after his arrival, stranding Hoover along with many other foreign nationals in China until the Eight Nation Alliance managed to defeat the rebels at the Battle of Tientsin. Hoover first displayed his talent for humanitarian aid when he helped to organize relief for stranded foreign nationals and even assisted in the defense of Tientsin. After the director of CEMC, Ltmd. agreed to establish a new joint Sino-British venture with Bewick, Moreing, Hoover assisted the company in establishing effective control over the new venture and was elevated to operating partner in 1901.
Hoover continued to travel the world as an operating partner for Bewick, Moreing to manage mines owned on several different continents. In December 1902, however, the company was tarnished by scandal after one of its partners admitted to having fraudulently sold stock. Legal troubles continued to mount for the company in 1904, when the British government formed two commissions to investigate Bewick, Moreing's labor practices and financial dealings in Australia. Hoover began looking for a way out of the partnership and quietly sold his shares in mid-1908.
After his departure from Bewick, Moreing, Hoover returned to London where he became an independent mining consultant and financier specializing in the rejuvenation of troubled mining operations. He helped to co-found the Zinc Corporation near Broken Hill, New South Wales in Australia, and he helped to increase copper production through the use of pyritic smelting in Kyshtym, Russia. By the outbreak of the Weltkrieg in 1914, Hoover had amassed a substantial personal fortune of four million dollars.  
Humanitarian Work
A week before Hoover's 40th birthday, war broke out on the continent of Europe between the Great Powers, stranding tens of thousands of American tourists in Britain without means of returning home. Hoover, still living in London at the time, organized an "American committee" to help repatriate American nationals, making loans and cashing checks as necessary. When the project concluded in October 1914, Hoover's American committee had successfully returned 120,000 Americans home with only $300 dollars in unpaid debt. His success brought him to the attention of US Ambassador to the United Kingdom Walter Hines Page, who proceeded to enlist Hoover in a much greater relief project.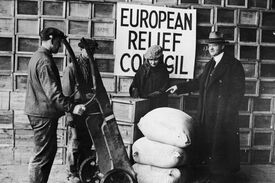 Shortly after the 1914 invasion by Germany, the tiny nation of Belgium faced an imminent food crisis. One of the most urbanized countries in Europe, it could only grow enough agricultural product to meet 20-25% of its needs, most of which was requisitioned by German occupying forces. The British economic blockade prevented the transport of war materials, including food, into occupied Belgium to prevent its confiscation, threatening the country with starvation. Together with Page and US Ambassador to Belgium Brand Whitlock, Hoover would help to organize the Commission for Relief in Belgium (CRB), one of the largest relief efforts of the war.
Headquartered in Brussels, the CRB bought and shipped 11.4 billion pounds, or 5.7 million tons, of foodstuffs over the course of the war and delivered it to 9.5 million civilians throughout occupied Belgium and Northern France. CRB offices located in London, Rotterdam, and New York helped to coordinate international relief efforts, supervising shipments of grains, flour, lentils, peas, beans, rice, and animal fats on chartered fleets of CRB-flagged vessels. The CRB was assisted in the distribution of relief by the Belgian Comité National de Secours et d'Alimentation headed by Émile Francqui. The United States government, though officially neutral during the war, praised Hoover's efforts with the CRB and offered substantial support to the organization.
1928 Election Campaign
Hoover became a national figure as a result of his humanitarian work in Belgium during the war and he quietly built up support for a presidential run throughout the 1920s. After the 1925 stock market crash and subsequent onset of the Great Depression, Hoover's national profile and business acumen made him a frontrunner for the Republican nomination, which he easily won at the 1928 National Convention in Kansas City, Missouri. He was joined by Senator Charles Curtis of Kansas as his running mate. Hoover faced Democratic nominee Al Smith for the presidency, the Governor of New York and the first Catholic nominee from either major party. Hoover and Curtis campaigned on the promise of a grand rail construction program to combat unemployment. In the South, Hoover pursued a "lily-white" strategy of removing black Republicans from leadership in order to curry favor with white Southerners.
Hoover maintained a steady polling lead throughout the campaign and easily trounced Smith on election day. His Southern strategy succeeded in cracking the "Solid South", and he carried many formerly Democratic strongholds. Hoover's victory was positively received by newspapers, with one paper declaring that he would "drive so forcefully at the tasks now before the nation that the end of his eight years as president will find us looking back on an era of prodigious achievement".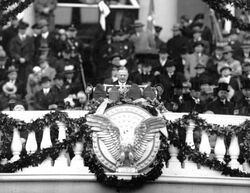 President of the United States
Due to the four months of complete government inactivity during the transition between the McAdoo and Hoover Administrations, the 19th Amendment to the United States Constitution was proposed and quickly ratified by the required three-fourths majority of states, moving the Presidential Inauguration from 4 March to 20 January. Hoover entered office amidst the Great Depression, the worst economic crisis ever seen in the United States. He believed that the primary cause of the Depression was a fundamental lack of confidence in the financial system, and sought to strengthen businesses such as banks and railroads while avoiding direct government intervention.
Hoover asked business and labor leaders to avoid wage cuts and work stoppages,  requested railroads and other public utilities increase spending on construction and maintenance, and the Federal Reserve announced a cut in interest rates, which taken together Hoover hoped would prevent a cycle of deflation and provide fiscal stimulus. At the same time, however, he adamantly opposed congressional proposals to provide federal unemployment relief, believing such initiatives to be the domain of local governments and charity organizations. Hoover's tactics proved insufficient to address the mounting economic crisis, and as a result his Republican Party was defeated in the House of Representatives in the 1930 midterm elections.
As the Depression dragged on, Hoover's critics developed colorful epithets to deride him and his policies: homeless encampments became "Hoovervilles", cardboard used to mend holes in shoes was dubbed "Hoover leather", and newspapers used to shelter from the cold were called "Hoover blankets". Hoover finally heeded calls for more direct government intervention, proposing the establishment of the Reconstruction Finance Corporation (RFC) to provide financial support to state and local governments by making loans to banks, railroads, and other businesses. Despite his support for the RFC, Hoover infamously vetoed the Garner-Wagner Bill in early 1932, a proposed expansion of the RFC that would have allowed for lending to small businesses and individuals that Hoover labeled "the most gigantic pork-bill ever proposed in the history of Congress".
Hoover fared little better in foreign affairs than he did in domestic, as the United States continued to be eclipsed by the German Empire on the world stage. Hoover was forced to conclude the occupation of Haiti due to the ongoing economic pressure of the Depression, officially leaving the island in 1930. In February 1931, US troops were forced to withdraw from Nicaragua after stunning losses to the guerilla armies of Augusto César Sandino and Francisco Sequeira Moreno, a humiliating defeat that further eroded the status of the Monroe Doctrine.
1932 Election Campaign
By 1932 few observers believed Hoover had any serious chance of winning reelection, and Republican expectations were so bleak that he faced no serious opposition at the 1932 National Convention. Democrats also found themselves in an unfavorable position, however, as popular Louisiana Governor Huey Long had been defeated for the presidential nomination by Maryland Governor Albert Ritchie and subsequently left the party. In his campaigns across the country, Hoover faced perhaps the most hostile crowds ever seen by a sitting president, and he was consistently heckled on the trail.
The 1932 election was the most chaotic in recent memory, with the somewhat recovered Democratic Party and insurgent Socialist Party of America peeling off several states from the Republican Party, ultimately leading to no candidate receiving a majority of electoral votes. The election thus proceeded to the House of Representatives where, in an extremely contentious decision that has had lasting repercussions for the American political system, Hoover was reelected for a second term as President of the United States.
Political Positions
During his time as a mining operator, Hoover became opposed to minimum wage and workers' compensation as being unfair to employers. Hoover is in favor of public-private cooperation, or "volunteerism", and opposes government coercion or intervention as contrary to the American ideals of individualism and self-reliance. Hoover has made extensive use of commissions to study issues and propose solutions, and many of these commissions are sponsored by private donors rather than by the government.
Personal Life
Hoover married his college sweetheart Lou Henry in 1899, and together they have two children: Herbert Hoover Jr. (b. 1903) and Allan Henry Hoover (b. 1907).