Hellmuth von Mücke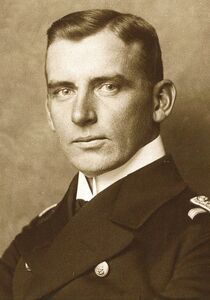 | | |
| --- | --- |
| Full Name | Hellmuth von Mücke |
| | |
| --- | --- |
| Titles | Governor of German East Asia (1926 - ) |
| | |
| --- | --- |
| Born | June 25, 1881 Zwickau, Kingdom of Saxony, German Empire (age 54) |
History
Early life
Mücke was born on June 21, 1881 in Zwickau, Saxony. He was a son of an Army Captain who later joined the Imperial Civil Service. At the age of 18, Mücke became a naval cadet and served on the school-ship Charlotte and later the battleship Kaiser Friedrich III. He became Leutnant zur See in September 1903 and was posted to the light cruiser Nymphe. In 1907, he became first officer of the 3rd Torpedo Boat Reserve Half-Flotilla and a year later a flag lieutenant to the Commander of Scouting Forces. He received command of the torpedo boat S.149 in 1910, while simultaneously acting as flag lieutenant for the First Torpedo Boat Flotilla.
Weltkrieg
Main article: Weltkrieg
Placeholder
After the Weltkrieg
Placeholder
See also
Community content is available under
CC-BY-SA
unless otherwise noted.